Faction Description

The Kingdom of Georgia, A.D. 1174 Summer

Georgians are one of the most ancient peoples of the world, having its statehood from the time of Kingdom of Colchis (from XII-VIII BC). In the year 319 CE the Georgian state recognised Christianity as its official religion. Georgian Apostolic Ortodoxal Church, based by apostles Andrey and by Simeon of Cana, became autocephalous in V century. Besides Georgia, great Georgian religious centers were based in Jerusalem, in Greece, in Cyprus, in Sinai, in Egypt, in Syria and Palestine. The monastery of the Iberians, as it is called, is one of the oldest monasteries in Orthodoxy's monastery state, Agion Oros. It was founded by John Tornicius, a courtier of David, ruler of Georgia in the third quarter of the 10th century. The royal dynasty of the Bagrationis, is central to the history of Georgia. First noted in 888 when designated "Kouropalates" (sovereign) by an Emperor of Byzantium, Bagrations became renowned when in 1001 Georgian king Bagrat III Bagrationi united all Georgian principalities - principality of Kakheti, Abkhazian reign, principality Tao-Klardzheti and principality of Kartli into the united reign and a new dominant power was formed in the Caucasus, the strong, centralized feudal state - Kingdom of Georgia (Sakartvelos Samepho). He was recognised as a "King of Kings" in Georgia and gave his name to a dynasty which was destined to rule for centuries. Bagrat's reign, a period of uttermost importance in the history of Georgia, brought about the final victory of the Georgian Bagratids in the centuries-long power struggles. Anxious to create more stable and centralized monarchy, Bagrat eliminated or at least diminished the autonomy of the dynastic princes. His son and grandson stabilised the Bagrationi rule after fighting Byzantium and its other neighbours. However, a new contender had arrived. Alp Arslan and his Turks devastated its lands in 1064 and 1068, prompting Byzantines and Georgians to stop a centuries long bitter fighting and join against a common foe. George II, 4th Bagrationi, ruled until 1112 but was unable to deal effectively with the constant the Seljuk Turkish attacks and overwhelmed by internal problems in his kingdom, George was forced to abdicate in favor of his energetic son, David IV, to whom he remained a nominal co-ruler until his death in 1112. He also held the high Byzantine titles of Kouropalates (c. 1060) and Kaesaros (c. 1081).David IV, 5th Bagrationi ruler, however had no Byzantine title. His only title would be "The Builder" and his claim to fame is to be considered the Greatest Georgian King. He succeeded in driving the Seljuk Turks out of the country winning the major Battle of Didgori in 1121. His reforms of the army and administration enabled him to reunite the country and bring most Caucasian lands under Georgia's control. A stroke of genious was how he reformed his military. He resettled a Kipchak tribe of 40,000 families from the Northern Caucasus in Georgia in 1118–1120. Every family was obliged to provide one soldier with a horse and weapons. This 40,000 strong Kipchak-army was entirely dependent on the King. Kipchaks were settled in different regions of Georgia. Some were settled in Inner Kartli province, others were given lands along the border. They were quickly assimilated into Georgians.His son, Demetre the First wasn't as successful. During his plot ridden reign, however, Georgia was a strong feudal power with well-organized military and political system and developed cultural and economical life. The grandson of David the builder, 7th Bagrationi ruler Giorgi the III was his true successor. He changed his father's defensive policy into more aggressive one and resumed offensive against the neighboring Seljuk rulers in Armenia. With his ascent to the throne, Giorgi III launched a successful campaign against the Seljuk sultanate of Khlat (the Shah-Armen State) in 1156. Giorgi took and annexed the Armenian cities of Ani and Dvin in 1161-1162. However, the Seljuk counterattacks made the King to cede Ani to a Muslim ruler on the terms of vassalage. The city was finally incorporated into the Georgian Kingdom in 1173. Throughout this period, the Georgian army was swelling with Armenian volunteers, enthusiastically participating in the liberation of their country. In 1167, he marched to defend his vassal Shah Aghsartan of Shirvan against the Khazar and Kipchak assaults and strengthened the Georgian dominance in the area.This is an exciting time for Georgia. Coffers are swelling with money from newly conquered provinces, the Army is strong, your kingdom is considered one of the most cultured and chivalrous in all of Christendom. Your subjects adore you. All of the Orthodox look up to you as your empire rises, whereas Byzantium is falling. Now it is time King of kings, to move forward, further than ever before. In this golden era Georgia is living, go forth, expand and conquer!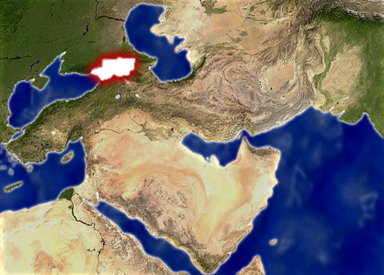 Popular units
No.
Card
Name
Class
Cost
Unkeep
1

48

Tadzreuli Swordsmen
infantry heavy
730
300
15 ratings

Legendary unit


They the well trained and well equipped, very experienced soldiers, strong by spirit, without are sorrowful to the enemies of Georgia and Christianity, but they are virtuous to the simple people, them all love and respect on this, and enemies feel trembling before their persistent view.
2

20

Monaspa Lancers
cavalry heavy
1460
650
14 ratings

Legendary unit


Monaspa expertly use spears, swords and bows, which makes them a dangerous rival for any foe. Practically, the Monaspa is a universal Force.
3

48

Dismounted Monaspa lancers
infantry heavy
1160
450
9 ratings

Legendary unit


Monaspa expertly use spears, swords and bows, which makes them a dangerous rival for any foe. Practically, the Monaspa is a universal Force.
4

52

Khevsur Heavy Swordsmen
infantry light
730
300
8 ratings

Legendary unit


Khevsurs are dressed beat in a chain armor, it is frequent their headdress from a chain armor closed all person Khevsur warrior. Thus before enemies there was not knowing fear, violent and at times a mysterious soldier without the person which scared to enemies.
5

48

Dismounted Monaspa Horse Archers
infantry missile
1060
450
4 ratings

Legendary unit


Monaspa expertly use spears, swords and bows, which makes them a dangerous rival for any foe. Practically, the Monaspa is a universal Force.
Units List

30

30

30

60

60

52

48

20

48

32

48

20

48

20

52

32

60

48

48

60

48

48

60

36

60

60

16

16

16

Cannot recruit units

8

20

16

16

16

16

16

16

16

48

60

16

60

48

48

60

48

60

48

48
Faction strength
Excellent spearmen, heavy swordsmen, heavy archers and wide range of heavy cavalry
Faction weakness
Lack of powerful armour piercing units and a dangerous position
Special unit
Monaspa Lancers