Faction Description
The Ghorid Sultanate, A.D. 1174 Summer

From all the dynasties having ruled amid the Ghur Mountains, from the emperors of Persia to Alexander of Macedon to the Arab conquests, there is one that stands out. While other cultures have merely assimilated or faded away the Ghorids construct their cities with proficiency and burn a scorch of war upon on the Earth. Having recently converted to Islam in 1149, the people of the Ghur Mountains yearn to spread their religion to new lands, as mandated by the divine will. Between Herat and Ghazni lies near impassible mountains with terrain that is rugged and difficult to travel. The land is defensible, but not impregnable. Intemperate hordes of warriors from the hills will surely rise to defend if any foreign power will encroach upon their lands. Chieftains regularly discourage outsiders through raids for plunder, slaves and tribute, and are happy to engage personally in a land where one's power is often determined by a strong will and forged by the sword.Surrounded by high mountains and potential enemies, the Ghorids retain a Persian language nearly free of Arab influence while developing a unique style of building. The Minaret of Jam, a grand collection of minarets and towers was completed in the 11th century through the support of various Sultans. Located in the Ghorid city of Firuzkuh, it is symbol of inspiration as the empire looks for further expansion.Once a provincial governor, Muhammad of Ghor now holds the throne, and to lighten his grip on it is something he does not intent to do. Muhammad of Ghor has envisioned great things; his name bearing the weight of the empire. His blind ambition has stressed economic capacity of the Ghorids and the will of his people to continue, yet they do, and at almost any cost. Like the Ghaznavids before them, the Ghorid people hope to one day rise from obscurity in the Afghan hillside and make their name feared in a land beyond their own. Not even they have been spared of the Sultan's wrath so far. With a crippling victory in 1152, the Ghaznavids still struggle to recover the splendor of their former glory. With thousands of disciplined Turkish ghulams and fanatical Islamic Ghazis the Sultan seems well prepared for the next course of action, whatever that may be, or to whatever land it may lead the troops.Though formidable opponents the Ghaznavids may be, they are not the only ones the Ghorids might have to deal with in the face of expansion. Ghor now sets his sight on the wealthy land of India. Land is not the only reason a Ghorid may seek conquest. If the vast spoils and wealth were to be brought home the great Afghan homeland will be further enriched, and converts to Islam will be won. There is an arrogant and overconfident Prince who would deny this to the Ghorid Empire. Prithviraj, an unsupported Indian Prince, sits near the Khyber mountain pass, guarding the jewel of India. Perhaps he should be taught a lesson in arrogance and for denying his betters rightful access to the east. Or like the Sultans prior, brick and mortar can be your instrument for the obedience of your people and the symbol of ascendancy. Whatever the path may be remember that mercy is expensive, conquest is boundless that and the dead tell no tales.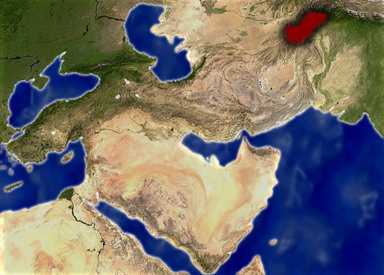 Popular units
No.
Card
Name
Class
Cost
Unkeep
1

48

Emir's Ghulam Warriors
infantry heavy
1160
450
10 ratings

Legendary unit


Heavy fanatic swordsmen who will defeat all but the strongest foes.
2

24

Lashkar Ambushers
infantry heavy
460
200
6 ratings

Legendary unit


True masters of their realm, they use reviled tactics and dexterous stealth with deadly effectiveness. Can hide anywhere and use bows very effectively.
3

60

Khorasani Light Spearmen
infantry spearmen
290
120
1 ratings

Legendary unit


Spearmen levied from the tribes and cities of Greater Khorasan. Poor of armor and of limited training, but reliable and cheap light spearmen best utilized in the defense of foot archers.
4

48

Nuristani Tribesmen
infantry missile
170
80
1 ratings

Legendary unit


Lacking in armor or steel weaponry, but fierce at heart, they throw showers of dangerous javelins to oncoming soldiers. Much more useful in masse.
5

48

Gakhari Tribesmen
infantry missile
280
120
1 ratings

Legendary unit


Unarmored Skirmishers, best utilized to harass enemy forces and to fall upon their distracted foe's flank and rear.
Units List

8

50

20

30

60

48

60

60

60

48

48

60

48

48

48

48

60

60

48

60

56

48

48

56

24

48

32

32

48

32

60

36

32

48

20

48

32

32

32

32

60

60

16

16

16

Cannot recruit units

16

16

16

16

16

16

16

16

24

60

48

18

18

20

32

48

18

32

60
Faction strength
Excellent and fanatical attack infantry, horse archers and powerful ghulam cavalry.
Faction weakness
A fatal lack of any spear units.
Special unit
Ghazi Warriors