Faction Description

The Abbasid Caliphate, A.D. 1174 Summer

The Abbasid Caliphs came to the throne after declaring a revolution against the Umayyads. The core of the revolution was the province of Greater Khorasan (now in Iran and Afghanistan). They successfully destroyed the army of the Umayyad Caliphate in the Battle of Zab River in 750. Following the battle, they seized Damascus, the seat of the Umayyads, and exterminated most (but not all) of the Umayyad royal family. Abu al-'Abbas as-Saffah was declared as the 1st Abbasid caliph. He made the city of Anbar (now in Iraq) the capital of the new Abbasid Caliphate. His empire extended from Iberia to the borders of India and China. When he died, he was succeeded by his brother, caliph Abu Ja'far al-Mansur. During his reign, al-Mansur built Baghdad and encouraged his court to translate the books of the Persians and Greeks. Also during this period, Abd ar-Rahman, a remaining Umayyad prince, escaped to Iberia and established an independent emirate there./n/nThe Abbasid Caliphs came to the throne after declaring a revolution against the Umayyads. The core of the revolution was the province of Greater Khorasan (now in Iran and Afghanistan). They successfully destroyed the army of the Umayyad Caliphate in the Battle of Zab River in 750. Following the battle, they seized Damascus, the seat of the Umayyads, and exterminated most (but not all) of the Umayyad royal family. Abu al-'Abbas as-Saffah was declared as the 1st Abbasid caliph. He made the city of Anbar (now in Iraq) the capital of the new Abbasid Caliphate. His empire extended from Iberia to the borders of India and China. When he died, he was succeeded by his brother, caliph Abu Ja'far al-Mansur. During his reign, al-Mansur built Baghdad and encouraged his court to translate the books of the Persians and Greeks. Also during this period, Abd ar-Rahman, a remaining Umayyad prince, escaped to Iberia and established an independent emirate there./n/nThe Abbasid Caliphs came to the throne after declaring a revolution against the Umayyads. The core of the revolution was the province of Greater Khorasan (now in Iran and Afghanistan). They successfully destroyed the army of the Umayyad Caliphate in the Battle of Zab River in 750. Following the battle, they seized Damascus, the seat of the Umayyads, and exterminated most (but not all) of the Umayyad royal family. Abu al-'Abbas as-Saffah was declared as the 1st Abbasid caliph. He made the city of Anbar (now in Iraq) the capital of the new Abbasid Caliphate. His empire extended from Iberia to the borders of India and China. When he died, he was succeeded by his brother, caliph Abu Ja'far al-Mansur. During his reign, al-Mansur built Baghdad and encouraged his court to translate the books of the Persians and Greeks. Also during this period, Abd ar-Rahman, a remaining Umayyad prince, escaped to Iberia and established an independent emirate there./n/n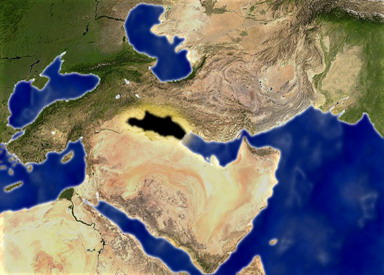 Popular units
No.
Card
Name
Class
Cost
Unkeep
1

30

Dismounted Caliphs Guard
infantry heavy
782
352
7 ratings

Legendary unit


Dismounted heavy cavalry armed with maces and superb armour.
2

40

Mutatawwi'a Warriors
infantry spearmen
719
316
4 ratings

Legendary unit


Well armored and highly motivated religious volunteers of military experience, participating in the age old tradition of the Jihad in defense of the Dar al-Islam.
3

20

Royal Ghulam Lancers
cavalry heavy
1294
647
3 ratings

Legendary unit


These are elite soldiers that are well known and used in the mideast. Their charge with lances and their skills with the mace are deadly to almost all enemies. These men have not much to look forward to except all the glorious battles they will encounter, thanks to their supreme skills in warfare.
4

30

Ghulam Horse Archers
cavalry missile
1107
542
3 ratings

Legendary unit


Well trained Horse Archers with strong armour and weaponry, they will rain death down from above.
5

25

Faris Lancers
cavalry heavy
1076
527
3 ratings

Legendary unit


Faris Lancers are cavalrymen steeped in history as much as the Turkish horse archer.
Units List

50

20

30

16

16

16

25

30

30

40

20

60

60

60

60

40

40

40

30

60

60

60

50

30

30

40

25

20

60

60

50

60

40

60

60

50

60

60

22

50

30

20

30

22

40

60

40

50

30

60

60

50

30

40

30

25

60

60

50

25

60

60

60

30

25

60

50

25

30

25

60

60

60

40

25

60

60

60

50

25

60

50

Cannot recruit units

10

20

60

60

60

60

30

60

40

25

30

50
Faction strength
Can field a good mix of infantry and light cavalry.
Faction weakness
Lacks strong late period units.
Special unit
Abna Spearmen