Faction Description

The Khwarezm Shah, A.D. 1174 Summer

The Khwarezm region has seen the rise and fall of many kingdoms and empires and seems to be a spawning ground for them. From the third century BC, when the ancient king of the khwarezm lands offerd to take Alexander the Great's armies north over the Caspian against his own enemies, Alexander politly refused the offer, but it does give an indication of how poweful that old kindgdom was, the times since then has seen these ancient lands apart of other empires, such as the Sassanids, and never able to lead themselves to glory, until now.The Khwarezm Shahdom is a relative newcomer to the political scene, founded in by the slave Anūš Tigin Ghrachaī as a vassalship of the Seljuk Turks after the area was taken from the Ghaznavid Empire, but it always threatened to break itself free, however all it took was a lucky turn of events which lead to the Khwarezmians independence in 1141. The Seljuk Turks sufferd a horrific defeat by the hands of the Kara Khitay and were forced to bend the knee to new masters causing what loyalty to the Seljuks the Khwarezemians had to disappear.Soon after this the Khwarezm Shah had its independence but no where to expand to until Sultan Ahmed Sanjar was killed in 1156, the Seljuks collapsed into chaos, paving the way for a new superpower to emerge in the region, it will take a wise and brave ruler to take the riotous Seljuk territories, who are by no means are a broken power and have the honour of an empire to defend. There is a chance to expand along every point on the compass, but the Seljuks will want their wayward vassalship to submit to their dominance once more, and other greedy powers are eyeing up this rich region of fertile land. A difficult prospect for the new Shah, but careful political manoevering and well timed strikes should see a new power here, able to rule for as long as the sun shines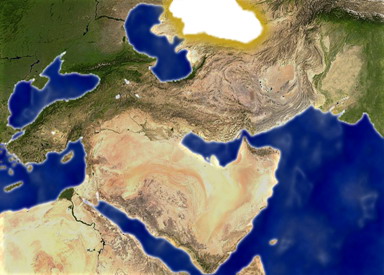 Popular units
No.
Card
Name
Class
Cost
Upkeep
1

30

Sughdian Assault Infantry
infantry heavy
1177
530
5 ratings

Legendary unit


Heavy two handed axemen from Sughdia.
2

20

Khwarezmian Guard Lancers
cavalry heavy
1664
832
3 ratings

Legendary unit


Elite heavy lancers riding cataphract mounts with heavy armour.
3

40

Mutatawwi'a Warriors
infantry spearmen
719
316
1 ratings

Legendary unit


Well armored and highly motivated religious volunteers of military experience, participating in the age old tradition of the Jihad in defense of the Dar al-Islam.
4

20

Askari Nobles
cavalry heavy
1471
735
1 ratings

Legendary unit


The Arab equivalent of a Feudal Knight, these warriors possess the same martial spirit as their foe's, possessing a greater mobility though lacking their rival's tremendous charge.
5

30

Daylami Heavy Infantry
infantry heavy
802
361
5 ratings

Great unit


Heavy skirmishers who are more than capable in melee.
Units List

50

20

30

16

16

16

60

50

40

30

30

50

30

20

20

20

60

60

50

60

40

60

60

50

60

60

22

50

30

20

30

22

40

60

40

50

30

60

60

50

30

40

30

25

60

60

50

25

60

60

60

30

25

60

50

25

30

25

60

60

60

40

25

60

60

60

50

25

60

50

Cannot recruit units

15

20

60

60

60

60

60

40

40

60

40

50

40

60

60

40

40

25

30

50
Faction strength
Powerful selection of heavy cataphract cavalry, horse archers and excellent daylamite forces.
Faction weakness
Mediocre early infantry at best.
Special unit
Khwarezmian Lancers