Faction Description

The Kypchak Confederacy, A.D. 1174 Summer

Across the steppes lives a steadfast people, determined to build and rebuild their Khanates through consolidation and conquest. Their hearts live by the saddle, and they are neither Christian nor followers of Islam, but fiercely pagan with a talent for steppe art devoted to their Gods. Living as nomads and herders, life is harsh and unforgiving; many men seek lives as warriors and their Khans dream of expansion.Although the tribes of the Kypchak confederacy have succeeded greatly in making their names dreaded in the land of Byzantium and Hungary, little accomplishment has been made in establishing any sort of permanence in these isolated invasions. Only until the establishment of the Kimek Kaganate in 893 has the Kypchak Confederacy practiced a widespread unification of their vast lands and ostensibly endless supply of people and horses. Let numbers not be a sole reliance in battle, for dependence on it has led to horrendous defeats. This is such on the dreadful day of the river Suten, where twenty Kypchak princes lost their lives at the hands of Kieven forces along with a grand horde of Kypchaks.The Kypchaks continue to eye for opportunities even though their lands may now stretch further east of the Caspian and as westward as the Christian land of Hungary in Europe,. Being the first mercenaries to the Crusaders, their influence was widely spread, so much that they became notorious mercenaries throughout the Black Sea for their immense numbers and ruthlessness. The Georgians too sought these mercenaries. Georgian king David IV "the Builder" orchestrated an alliance with the Kypchak Khan Otrak as a supporter for their ongoing war against the Seljuks. Like a storm upon a village, the Kypchaks flooded into Georgia, settling it as their new home. 40,000 Kypchak families were given land and free passage to Georgia and each had to contribute one soldier to the Georgian army. The Georgian council, delighted by this new force of regulars, secured the alliance with the marriage of Gurandukht, daughter of Khan Otrak, to King David.Some of the Kypchak clansmen longed for their Khan to return home upon the steppes. Legend has it that when Otrak heard Or', Otrak's dear brother, singing an old Kypchak song and smelled steppe grass, he grew melancholy and returned home to his people. As the Georgians tighten their stronghold on the Kypchaks living in their domain, is this truly the right path? Is this more of a vassalship than an alliance? There runs a risk that the Kypchak culture and religion could disappear if it remains integrated into Georgian society. Perhaps all relations with the Georgians should be forsaken, the hordes reorganized, and a new direction for the Kypchaks should be chosen. Surely, with the fury and limitless supply of the Kypchak people, they can choose their own fate.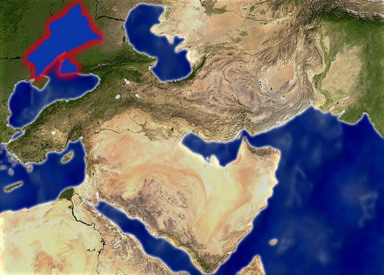 Popular units
No.
Card
Name
Class
Cost
Upkeep
1

50

Kypchak Noble Archers
infantry missile
632
271
2 ratings

Legendary unit


These men attain more power from their bows dismounted with a stronger grip and deadly accuracy. Puncture some armors and devastate approaching infantry.
2

20

Kypchak Khans Lancers
cavalry heavy
1389
694
1 ratings

Legendary unit


Chosen from the most adept of boys and put through intense training. Well disciplined with an incredible charge and legendary reputation.
3

20

Kypchak Khans Cavalry
cavalry heavy
1180
590
1 ratings

Legendary unit


Possibly the best horse archers in the known world with a warrior's spirit to persevere. Fiercely loyal to the Khan.
4

40

Kypchak Noble Axemen
infantry heavy
784
345
1 ratings

Great unit


These nobles have put aside their differences to fight a common enemy. They decimate spearmen with their fearsome axes and expensive armor.
Units List

20

30

16

16

16

60

60

60

50

60

40

60

40

50

50

60

60

50

50

40

30

40

30

20

30

60

60

50

60

60

22

50

30

30

22

60

40

50

60

60

50

30

40

30

25

60

60

50

25

60

60

60

30

60

50

30

60

60

60

40

60

60

60

50

60

Cannot recruit units

15

20

60

60

60

60

30

25

20

50

30

40

30

25

25

25

25

25

25

30

50
Faction strength
Excellent horse archers and medium infantry.
Faction weakness
Lacks diverse infantry and spears.
Special unit
Kypchak Elite Horse Archer