Faction Description

The Solanki Rajputs, A.D. 1174 Summer

The word Raja, with its original Sanskrit meaning of both 'one who rules' and 'one whose duty is to serve', was taken very seriously by the Rajaputra (king's sons) a name which got shortened to Rajputs. Never rulers themselves in centuries past but Ksatryia rather, those Hindus were famous warriors, and maybe even skilled administrators but not rulers themselves. This changed a few centuries ago when the four Agnivanshi clans, namely, the Pratiharas (Pariharas), Solankis (Chaulukyas), Paramaras (Parmars) and Ghosh, Chauhans (Chahamanas), rose to prominence. All those are called "Rajput states". First among equals in those states would be Chaucan kingdom. Having seceded from the Kingdom of Gurjara-Pratiharas one and a half century ago, this is the time when they prepare to expand. All Rajput states are similar in culture, and their greatest advantage is the fanatical devotion of the population. While their bravery has never been in doubt, the fact that they would turn on each other was their greatest disadvantage, and they sought to remedy that through marriage alliances. They are fighting Marathas to the south and the Muslim invaders in the north and west, yet it seems that they mostly fight among themselves.It isn't a choice to be a Rajput though. Rajputs are born into their warrior caste. A lifelong training in the arts of war and a devotion to one's master and sword who leads to death more often than not. A rajput's life is duty whether he is a lowly spearman or a maharaja. It is the same. The rituals they hold when they are about to be overrun are not for the weak. Their women commit "jauhar" a ritual suicide, while the men have the "saka", a fight to the death with no one even considering surrender. This stance put them squarely against any invader who has his eyes set on India.Mahmud of Ghazni was such a man. While a Great Man in the eyes of his people, he spelled doom for hindus. In the two centuries since he established his state, his descendants are at a constant war with Rajputs. Raja Jayapala of the Hindu Shahi Dynasty of Gandhara and his son Anandapala lost to him, thus ending the Hindu states of Uttarapatha which as Mahabharata states were always indian. Then he set his eyes on hind and its riches, vowing to raid every year, and he did so 17 times. India was looted from Varanasi to Somnath. War against his state hasn't stopped since.Yet, the Hindu gods smile upon the Rajput states. Another tribe, the Seljuks are steadily encroaching on the Ghaznavids. What was once a mighty empire, now only holds a remnant. A new thread now stands like a wolf at the Khyber pass, the Sultans of Ghor. The ferocious warlord Muhammad of Ghor and his slaves armies and fanatical warriors have already begun their march into the Punjab. Now is the time for the Hindu Ksatriyas to rise again. First move against Delhi and Lahore and capture them. Then restore the Uttarapatha mahajanapadas and move beyond to the very heart of Asia, or even Arabia and Africa. The future is full of opportunities for the children of the gods. May Lord Rama and Krishna, smile upon you.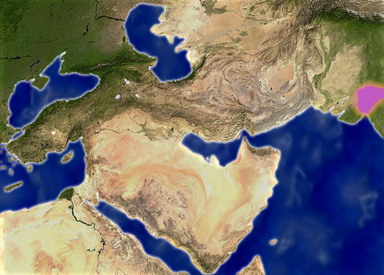 Popular units
No.
Card
Name
Class
Cost
Upkeep
1

22

Raja Samnahya Saravani
cavalry heavy
1878
920
6 ratings

Legendary unit


Archers whose status atop Elephant Howdah affords them great range and accuracy upon their lower-borne and lower-standing foes.
2

50

Soomro Kshatriya Warriors
infantry light
659
283
6 ratings

Legendary unit


Mobile medium infantry armed with straight sword and javelins, strong on offense and in support of defending spearmen.
3

40

Jagirdar Horse Archers
cavalry missile
1164
558
6 ratings

Legendary unit


Medium Horse Archers armed with Composite Bow and Mace, capable in melee once their foe has been softened up.
4

50

Indian Swordsmen
infantry light
510
219
6 ratings

Legendary unit


Quality infantry with sharp scimitars. They can wreak havoc in enemy spearmen ranks, but are vulnerable to a cavalry charge.
5

22

Nagavarika Saravani
cavalry heavy
2019
989
4 ratings

Legendary unit


Astride Nagavarika, the royal elephants, these elite kshatriya archers reign death upon their foes while their regal steeds thunder about like mountains brought to life.
Units List

50

20

30

16

16

16

60

60

60

50

60

40

60

60

50

60

60

40

22

22

50

50

30

40

20

22

50

30

22

60

40

50

60

60

50

30

40

30

25

60

60

50

25

60

60

60

30

60

50

30

60

60

60

40

60

60

60

50

60

Cannot recruit units

22

60

60

60

60

60

60

60

50

30

22

22

30

50

30

25

25

25

25

25

25

30

50
Faction strength
Can field large armies, Rajput warriors and lots of Elephants!
Faction weakness
Lacks strong heavy infantry and cavalry.
Special unit
Champion Elephant Archers