Faction Description

Basileia Rhōmaiōn, A.D. 1180 Summer

Byzantium is the shadow that remains of the old Roman Empire. It is a mere shadow because despite retaining the civilised ways of the Roman legacy, the Byzantines have done little to further it. In fact, it is their reverence of the old ways that has brought the empire to a point of stagnation, in a world that has gradually kept moving on. The differences between the thinking in Byzantium and the west were most profoundly highlighted with the Great Schism, the division of Christendom.Despite boasting the world's trade capital and home of Orthodox Christianity in Constantinople, the Byzantine Empire is well past its zenith and is now in steady decline. The outer regions of the empire have been slipping from the Emperor's grasp for decades now. To the west, the Normans have taken southern Italy, and in the east the Turks have moved into Asia Minor after their decisive and terrible victory at Manzikert. The latter of these two losses was the worst defeat the Empire had suffered in its entire history. To make matters worse, general corruption, chaos and dissent has lead to some of the other provinces closer to home to rebel. Arguably, the greatest threat to Byzantium lies in its independence from Rome. There is significant risk that the lords of the west will consider the lands of Orthodox Christianity to be fair game unless the Pope decrees otherwise. It is a true irony that Constantinople may now have to appease Rome after becoming the new capital of the Roman Empire centuries ago.If the Byzantine Empire is to once again become the dominant power of the east, then it will first need to reclaim its heartlands wholly before encroaching upon the borders of another power. The Byzantine legacy is long and predominantly proud, but unless the Emperor can turn things around in a hurry, it is a legacy that will soon end.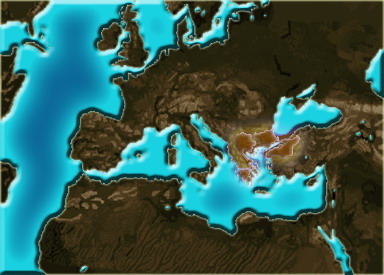 Popular units
No.
Card
Name
Class
Cost
Upkeep
1

72

Byzantine Heavy Spearmen
infantry spearmen
450
155
6 ratings

Legendary unit


The byzantine heavy spearmen are armed with long spears and swords, being very versatile troops, effective against both infantry and mounted units.
2

16

Greek Firethrower
infantry missile
800
150
4 ratings

Legendary unit


A devastating and terrifying weapon shooting spurts of liquid fire. Consisting of a small hand pump connected to a container.
3

60

Varangian Guard
infantry heavy
670
225
4 ratings

Legendary unit


The Varangian guard are superb two-handed axemen, protected by heavy armour.
4

32

Kataphractoi
cavalry heavy
660
185
3 ratings

Legendary unit


Very heavily armoured and equipped with a lance and mace, although somewhat outdated they are still formidable troops.
5

72

Skutatoi Pikemen
infantry spearmen
430
185
2 ratings

Legendary unit


Fighting in a phalanx formation, these spearmen are more than a match for the heavily armoured.
Units List

50

30

30

40

32

32

32

16

32

32

32

32

32

32

32

32

32

56

56

56

56

72

60

60

72

72

72

72

60

60

60

60

60

32

56

60

16

16

16

16

56

56

72

60

32

72

16

60

56

16

Cannot recruit units
Faction strength
Good heavy cavalry and missile cavalry, capable archers.
Faction weakness
Lacks late period gunpowder.
Special unit
Varangian Guard