Faction Description

County of Flanders, A.D. 1180 Summer

In 862, Baldwin Iron Arm, a son-in-law of Emperor Charles II, became the first count of Flanders. In the divisions of the Carolingian empire, Flanders became a fief of the French crown, but its powerful counts enjoyed virtual independence. The Count is supposed to owe loyalty to the king of France, but the king is weak and safely distant... for now. If Flanders is to ensure this level of indepence they will have to increase their economic and military power. The king of France will surely send his vast armies to punish Flanders for their disobedience! If Flanders wishes to remain free and expand it should first take the wealthy city of Antwerp under its control and build up and army to keep the French at bay and when the time is right invade one of the strong factions it's surrounded by!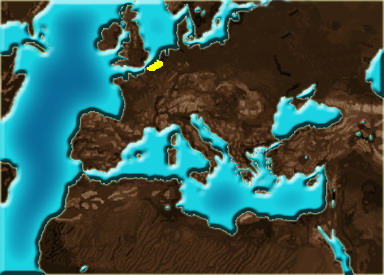 Popular units
No.
Card
Name
Class
Cost
Upkeep
1

72

Flemish Pikemen
infantry spearmen
430
185
2 ratings

Legendary unit


Hailing from Flanders, these men are armed with pikes and wear light armour.
2

60

Goedendag Militia
infantry heavy
190
100
2 ratings

Legendary unit


Militia unit armed with a Goedendag.
3

60

Flemish Merchant Macemen
infantry heavy
540
225
2 ratings

Legendary unit


Rich Flemish Merchants equiped with Maces. Using their wealth to buy excellent armour and weapons they become the elite fighting forces of Flanders.
4

60

Badelaar Militia
infantry heavy
400
150
2 ratings

Legendary unit


Well armed and equipped Badelaar Militia. Able to wear chain and plate armour.
5

72

Armoured Sergeants
infantry spearmen
450
155
1 ratings

Legendary unit


Trained and hardened warriors protected by a large shield and mail. Armed with spears and able to form a defensive ring of spears.
Units List

50

20

30

30

32

16

16

32

32

32

32

32

32

32

32

32

56

56

56

56

56

72

60

72

72

72

72

72

72

60

60

60

60

60

60

60

32

56

60

16

16

16

16

16

16

56

56

72

60

32

60

60

60

60

60

16

Cannot recruit units
Faction strength
Boasts superb Militia.
Faction weakness
Fields a poor variety of cavalry.
Special unit
Goedendag Milita