Faction Description

Ducato de Milàn, A.D. 1180 Summer

Milan is a city of both possibility and problems. The Archbishop of Milan was until very recently the most powerful political figure in Northern Italy, with the city well and truly under his thumb. Though still Catholic, the Milanese are breaking free from the control of the church to form a mighty, expanding municipality.The Milanese are surrounded by possible allies and enemies. The Alps provide Milan with a natural barrier to the north that ensures the city is relatively safe from Swabia and the Holy Roman Empire - If the Milanese hold the mountain passes, they can hold off Northern Europe. While the mountains fence Milan off from the world, Genoa serves as the coastal gateway to the Mediterranean and beyond.Though better positioned to expand into the rest of Europe than the other Italian peoples, the Milanese are also the most likely to have to confront the Northern European powers first, and will need to consolidate their position swiftly by working their way into the nearby provinces that the French and Germanic forces have not secured... yet.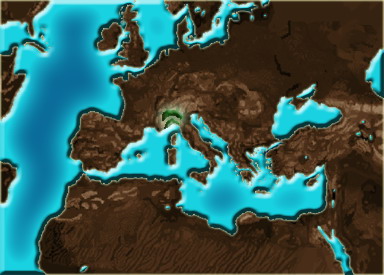 Popular units
No.
Card
Name
Class
Cost
Upkeep
1

32

Famiglia Ducale
cavalry heavy
740
240
1 ratings

Legendary unit


Armoured in plate and wielding lances, these elite knights defend the Duke's honour.
2

56

Arquebusiers
infantry missile
480
90
1 ratings

Legendary unit


Fired at close range, this noisy, smokey and lethal weapon causes morale damage as well as physical hurt.
3

56

Musketeers
infantry missile
570
100
1 ratings

Legendary unit


The musket is an improved form of firearm. Firing a heavy shot to a good range, it causes fear, and can pierce any armour.
4

32

Broken Lances
cavalry heavy
610
240
1 ratings

Fine unit


Broken lances are well trained and experienced professional soldiers, protected by plate armour, armed with lances and swords.
5

72

Religious Fanatics
infantry light
270
90
2 ratings

Promising unit


A motley assortment of zealots and maniacs from amongst the common folk of Europe, travelling to the Holy Land.
Units List

50

20

40

30

32

32

32

32

32

32

16

16

32

32

32

32

32

32

32

32

32

56

56

56

56

56

56

56

72

60

72

72

72

72

72

72

60

60

60

32

56

60

16

16

16

16

16

16

16

16

36

56

56

72

60

32

60

60

60

60

60

72

60

16

Cannot recruit units

32

72

60

60

60
Faction strength
Boasts strong militia infantry, crossbowmen and late technology.
Faction weakness
Poor offensive cavalry.
Special unit
Famiglia Ducale