Faction Description

Mongol Uls, A.D. 1180 Summer

Though few in number (approximately two million people at the height of their empire), Mongols were important in Eurasian history. Under the leadership of Genghis Khan, the Mongols created the second largest empire in world history, ruling thirty-five million square kilometres (13.8 million square miles) and more than 100 million people, nearly equal to the British Empire in land area. At its height, the Mongol Empire extended from Manchuria in the east to Hungary in the west, and from Russia in the north to Java island in Indonesia in the south, and it included most of the lands in between, such as Afghanistan, Turkey, Uzbekistan, Georgia, Armenia, Russia, Persia, Pakistan, China, and much of the Middle East. The Mongol invasions of the thirteenth century, culminating in the subjugation of Baghdad in 1258 and the demise of the Abbasid caliphate, had an enormous impact on large areas of the Islamic world, which now experienced its greatest threat. These conquests were carried out under the command of Hülagü, a grandson of Genghis Khan, who assumed the title Il-Khan, meaning "lesser Khan," a subordinate of the Great (Mongol) Khan in China. The name Il-Khan (or Ilkhanid) is also used to describe the branch of the Mongol dynasty that ruled over Iraq, the Caucasus, parts of Asia Minor, and all of Iran, as far east as Central Asia.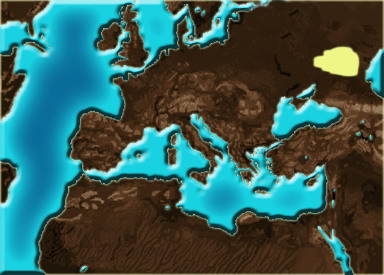 Popular units
No.
Card
Name
Class
Cost
Upkeep
1

32

Mongol Heavy Lancers
cavalry heavy
720
0
2 ratings

Legendary unit


Elite shock troops who exchange mobility for heavier armour.
2

16

Bodyguard
cavalry heavy
860
0
2 ratings

Legendary unit


Men picked for valour and loyalty to protect the general.
3

60

Dismounted Heavy Lancers
infantry spearmen
560
185
2 ratings

Great unit


Despite preferring to fight on horseback, these heavily armoured warriors have dismounted to fight on foot.
4

32

Mongol Heavy Archers
cavalry missile
750
0
2 ratings

Great unit


Protected by lamellar armour, giving these horse archers better protection against enemy attacks.
5

32

Khan's Guard
cavalry heavy
800
185
1 ratings

Great unit


Magnificently equipped elite troops loyal to the Khan, and willing to protect him at all costs.
Units List

20

32

32

32

32

32

60

72

60

32

56

24

56

72

60

72

72

60

32

32

32

32

32

56

56

16

56

60

56

60

16

16

16

16

56

56

72

60

32

Cannot recruit units

32

16
Faction strength
Best cavalry power in the known world.
Faction weakness
Lacks infantry and effective gunpowder units.
Special unit
Mongol Horse Archers