Faction Description

El Reino de Leon y Castilla, A.D. 1180 Summer

Any man who is born on the Iberian Peninsula would call himself a "Spaniard", so when King Alfonso VI declared himself the "Emperor of all Spain" three years ago, it was a truly bold claim. After all, not since the times of the Western Roman Empire has one noble court truly ruled the peninsula unopposed. Currently, the Moors hold southern Iberia quite tightly, and Portugal's declaration of independence really proves Alfonso wrong.However, Alfonso has managed to become the King of Leon, Castile and Galicia all at once, so there is definitely more to his claim than wild boasts. Now that the petty differences of the Christian courts have been abolished, the Reconquista looks like it may finally become a reality - Alfonso VI is the first sovereign to truly find himself in a position to actually drive the Muslims back into northern Africa.The first moves for the King of Spain are obvious, but beyond Iberia, there is far less certainty. The King of France may be cowering in Paris to avoid facing other French noble robber barons, but crossing the Pyranees to take his southern fiefdoms is more likely to unify his people than split their loyalties.Unless the new Spanish royalty are willing to embark on such a dangerous campaign, they must look to the sea to find less daunting borders to cross. The Spaniards have always shown an affinity for the water, and make fine seafarers. Who knows, perhaps the great empires of the future will be forged at sea rather than on dry land - If so, the people who mastered this art of war first would inherit the earth.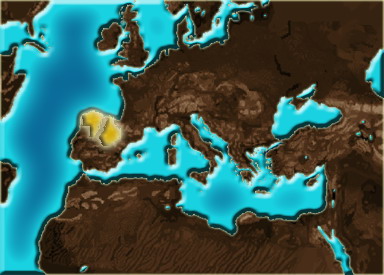 Popular units
No.
Card
Name
Class
Cost
Upkeep
1

32

Jinetes
cavalry missile
550
130
1 ratings

Legendary unit


Fast and manoeuvrable light cavalry units, Jinetes hurl their javelins before closing in and fighting with their cavalry swords.
2

16

Mangonel
siege missile
590
250
1 ratings

Legendary unit


Great siege engine capable of throwing exploding barrels of oil
3

32

Chivalric Knights
cavalry heavy
790
185
1 ratings

Great unit


Elite warriors clad in steel plate armour, these men pack a ferocious charge, while being hard to kill.
4

72

Tercio Pikemen
infantry spearmen
320
155
1 ratings

Great unit


Superior armoured pikemen, known for their discipline and determination.
Units List

30

20

60

40

30

32

32

32

32

32

16

16

32

32

32

32

32

32

32

32

32

56

56

56

56

56

56

56

72

56

56

60

60

60

72

72

72

72

72

60

60

60

60

32

56

60

16

16

16

16

16

16

16

16

56

56

72

60

32

60

60

16

Cannot recruit units

32

60
Faction strength
Excellent naval units, light infantry and cavalry.
Faction weakness
Lacks heavy infantry and spears in early period.
Special unit
Conquistadores