Faction Description

Tīmūrīyān, A.D. 1180 Summer

The Turks may very much be relative newcomers to both Anatolia and the Holy Lands, but the impact that they have had upon these realms since they migrated from the steppes east of the Caspian has been profound enough to shake the pillars of the oldest and mightiest neighbouring dynasties. Having seized control of the Abbasid Caliphate from the Buyids, and utterly crushed the Byzantines at Manzikert, the Turks have restored unity to the eastern Islamic region, making them arguably the greatest power Arabia or Persia has seen for centuries.Settling down has been the Turks' secret to asserting their dominion. Traditionally a nomadic people, they have at last adopted a system of centralised rule to form the Seljuk Empire. Considering they have relied upon their natural skill at mounted combat and guerrilla warfare for centuries, the Turks have already shown incredible talent at governing a vast empire from a single throne.In the foreseeable future, arrogance and complacency are likely to be the biggest threats to the mighty Seljuk Empire. To expect Byzantium to underestimate Turkish forces after the slaughter of Manzikert would be folly, and it can be taken as given that they will attempt to regain control of Anatolia. It would also be foolish to believe that the Fatimid dynasty in Egypt will be content to simply overlook the fertile banks of the Nile - They are just as well placed to seize control of all of the Holy Lands.So long as the Turks manage to combine their new system of centralised government with their innate abilities as mounted warriors, then their position in this corner of the world looks most secure. After all, how likely is it that an even more fierce and formidable race of nomadic warriors sweep down from the steppes?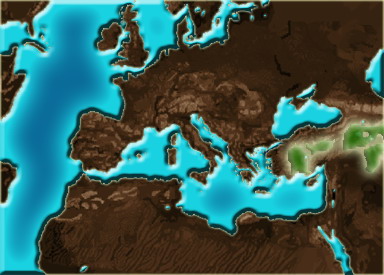 Popular units
No.
Card
Name
Class
Cost
Upkeep
1

60

Janissary Heavy Inf
infantry heavy
650
175
2 ratings

Legendary unit


Trained in many weapons, these Janissaries, fight with a halberd and are protected by mail armour.
2

32

Sipahis
cavalry missile
570
130
1 ratings

Legendary unit


Medium armed horse archers, while less mobile than other horse archers, are better suited to hand to hand fighting.
3

32

Sipahi Lancers
cavalry heavy
570
155
1 ratings

Legendary unit


A better class of Sipahis, better suited to hand to hand combat than their archers counterparts.
4

32

Qapukulu
cavalry heavy
840
185
1 ratings

Legendary unit


Elite household guards, well armoured and equipped with maces, Qapukulu make for tough opponents in hand to hand combat.
5

56

Janissary Archers
infantry missile
870
175
1 ratings

Legendary unit


Janissary archers shower the enemy with arrows, weakening and breaking formations before the infantry move in.
Units List

50

20

40

30

32

32

32

32

32

60

72

60

32

32

32

32

32

16

16

32

56

56

56

56

56

56

24

56

56

72

60

60

72

60

60

72

60

36

60

16

16

16

16

16

16

16

56

56

72

60

32

72

32

32

60

16

Cannot recruit units

32

60

56
Faction strength
Outstanding mounted archers and Janissary troops.
Faction weakness
Lacking in heavy armour and early period infantry.
Special unit
Janissary Heavy Infantry