Faction Description

England, A.D. 1080 Summer

Having recently wrestled control of England from the Saxons, many would expect the conquering Normans to be somewhat spent and weakened. However, the new rulers of England have swiftly replaced and improved the taxation system so as to replenish their coffers in quick time. Most importantly, William the Conqueror came with the support of the Pope, as well as a mixed force of well-trained infantry, archers and heavy cavalry. England's new masters have a more modern approach to the art of warfare, and the will to utilise the country's rich resources to maximum effect.The English court may now speak French, but the Normans certainly don't consider their new conquest a French territory. This independence in England, plus the proximity of Normandy to other lands the French monarchy consider their own, makes France an immediate and obvious threat to deal with. The ever stubborn Scottish also prevent the King of England from having uncontested control of the British Isles.Though they presently face trouble on multiple fronts, the English are in a rather promising position. The Scots to the north are isolated from the rest of Europe, and should be easy to wear down without a strong ally from the mainland. The French royal forces are more than a match for the armies in Normandy, but they also have enough fronts to deal with right now that they are unlikely to be able to drive them from the continent anytime soon.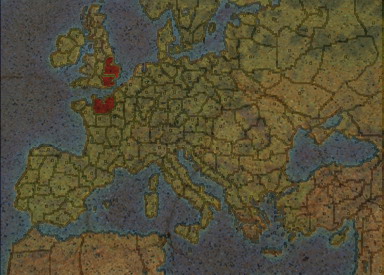 Popular units
No.
Card
Name
Class
Cost
Unkeep
1

6

General's Bodyguard
cavalry heavy
430
100
2 ratings

Legendary unit


Elite knights hand picked to protect the general.
2

48

Armoured Swordsmen
infantry heavy
610
150
2 ratings

Legendary unit


Footmen of the knightly class able to afford excellent armour and swords, they can punish most other infantry.
3

48

Heavy Bill Militia
infantry heavy
500
150
2 ratings

Legendary unit


Superior Bill militia, armed with a billhook and heavy armour.
4

48

Dismounted Feudal Knights
infantry heavy
570
225
2 ratings

Legendary unit


Knights would often dismount and fight on foot when the situation demanded it. Dismounted they make excellent heavy infantry.
5

32

Demi Lancers
cavalry heavy
1000
350
2 ratings

Legendary unit


Armed with a lance but with less armour these units are mobile and deadly.
Units List

50

20

30

30

32

32

32

32

32

32

32

32

48

48

48

24

48

48

48

48

60

60

60

60

60

60

60

60

48

48

48

48

60

48

48

16

16

16

16

16

16

16

48

60

Cannot recruit units

6

6

32

60

48

48

60

6

12

6
Faction strength
Boasts superb longbowmen and strong infantry.
Faction weakness
Fields a poor variety of cavalry.
Special unit
Longbowmen