Faction Description

The Duchy of Franconia, A.D. 1080 Summer

In the Middle Ages, Franconia came to be divided into two distinct regions, though these regions were not coherent territories with distinct governments. Rather, they were culturally different regions which came to be dominated by different political and religious forces and thus came under the de facto "rule" of different bodies. The western half of Franconia (Rhenish Franconia) has become the dominating state in the Holy Roman Empire. The Salian Emperors have strengthened their home territory to make it the leading German State. However, Franconia is without many allies and only a strong leader will be able to overcome this. Once the last Salian Emperor dies Franconia may disintegrate unless a dynamic leader can stop it.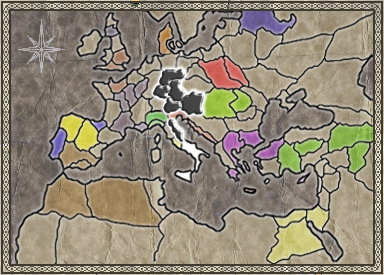 Popular units
No.
Card
Name
Class
Cost
Unkeep
1

6

General's Bodyguard
cavalry heavy
430
100
1 ratings

Legendary unit


Elite knights hand picked to protect the general.
2

6

Grand Master Ulrich
cavalry heavy
1120
250
1 ratings

Legendary unit


Grand Master Ulrich and his bodyguard.
3

32

Gothic Knights
cavalry heavy
1400
420
3 ratings

Great unit


Impressive looking heavy cavalry, well protected by armour for both rider and mount. Equipped with lance and mace.
4

32

German Knights
cavalry heavy
850
300
1 ratings

Great unit


Encased in mail and equipped with lances and swords these early knights are formidable fighting machines.
5

48

Pavise Crossbowmen
infantry missile
490
175
1 ratings

Great unit


These troops are armed with a large shield to protect them during the slow process of reloading their crossbow.
Units List

50

20

30

30

32

32

32

32

32

32

32

32

48

48

48

48

48

48

60

60

60

60

60

60

60

60

60

48

24

60

48

48

16

16

16

16

16

16

16

16

60

60

48

60

48

32

Cannot recruit units

32

6

6

60

60

48

48

6

6
Faction strength
Strong all-round.
Faction weakness
Lacks the late period professional armies of England and France.
Special unit
Gothic Knights