Faction Description

France, A.D. 1080 Summer

The French have thanks to various wars taken most of the English territory in France, and so are in a strong position to begin with. King Philip VI is determined to show Edward how 'rightful' Edwards claim to the throne is.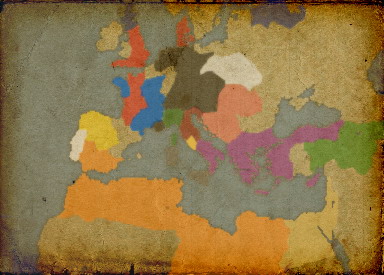 Popular units
No.
Card
Name
Class
Cost
Unkeep
1

48

Scots Guard
infantry missile
730
175
2 ratings

Great unit


These Scottish troops are elite armoured longbowmen, and form part of the French King's guard.
2

16

Trebuchet
siege missile
430
250
2 ratings

Great unit


Giant rock flinging artillery piece. Capable of flaming and normal shot. Also able to fling diseased cows!
3

48

Voulgier
infantry heavy
580
150
2 ratings

Good unit


Well equipped, these men make solid infantry, and their polearms make them effective against both foot and mounted foes.
4

24

Lancers
cavalry heavy
920
240
3 ratings

Fine unit


The ultimate knights superbly protected by sophisticated plate armour. With good morale and heavy armour, this unit can tackle anything.
5

24

Knights Templar
cavalry heavy
870
185
3 ratings

Fine unit


Elite and some say reckless knights formed to protect Christian pilgrims in the Holy Lands.
Units List

50

20

30

30

24

24

24

24

24

16

16

24

24

24

24

48

48

48

48

48

48

48

60

60

60

60

60

60

60

48

48

48

48

48

16

16

16

16

16

16

16

16

16

Cannot recruit units

24

24

24

48

60

60

60

60

48

16

16

16
Faction strength
Fields the best heavy cavalry in the west, and good infantry in the late period.
Faction weakness
Relatively weak infantry in early period
Special unit
Coat of Arms