Faction Description

The Byzantine Empire, A.D. 1080 Summer

The Byzantines have a large empire, but following the destruction of their army at Manzikert, there are not many troops in the outer provinces so they are vulnerable to attack. It is also already at war with Sicily and the Turks so it will have to deal with early attacks from both. Its territory in Italy is particularly vulnerable.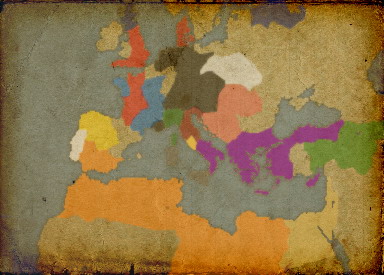 Popular units
No.
Card
Name
Class
Cost
Unkeep
1

24

Vardariotai
cavalry missile
930
185
1 ratings

Great unit


Disciplined and highly trained, the Vardariotai wear light armour and fire a composite bow from horseback.
2

48

Varangian Guard
infantry heavy
650
175
4 ratings

Fine unit


The Varangian guard are superb two-handed axemen, protected by heavy armour.
3

24

Byzantine Cavalry
cavalry missile
530
130
2 ratings

Fine unit


Versatile lightly armoured medium cavalry, equally able shooting their bows, or fighting with their swords.
4

48

Byzantine Guard Archers
infantry missile
610
175
2 ratings

Fine unit


Byzantium Guard Archers are well trained missile troops equipped with composite bow, sword, mail and a shield.
5

24

Byzantine Lancers
cavalry heavy
490
155
3 ratings

Promising unit


Well trained and disciplined troops used throughout the Byzantine Empire, these Lancers are well armoured and equipped.
Units List

50

30

30

40

24

24

24

16

24

24

24

24

48

48

48

48

60

48

60

60

48

48

48

48

16

16

16

16

Cannot recruit units

24

24
Faction strength
Good heavy cavalry and missile cavalry, capable archers.
Faction weakness
Lacks late period gunpowder.
Special unit
Coat of Arms