Faction Description

Spain, A.D. 1080 Summer

The more powerful of the two Christian kingdoms in the campaign, Spain will have to drive the Moors out of Iberia to achieve dominance. They start out with priests eager to convert the Muslims on the Peninsula. With Navarre and Aragon to the North East still separate, Spain could take them and use their well developed provinces to aid their war effort. Spain must also watch out for Portugal who will be trying to control the Peninsula as well.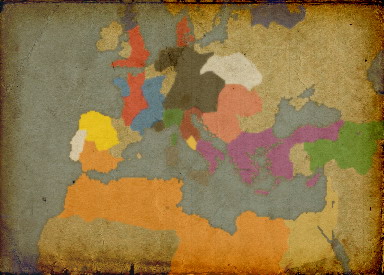 Popular units
No.
Card
Name
Class
Cost
Unkeep
1

24

Knights of Santiago
cavalry heavy
870
185
1 ratings

Great unit


Based in Spain, the Knights of Santiago are charged with driving the Moors from Iberia.
2

48

Foot Conquistadores
infantry heavy
660
150
1 ratings

Great unit


Well armoured and equipped with a sword, Conquistadors make superb heavy infantry capable of devastating attacks.
3

24

Gendarmes
cavalry heavy
760
240
2 ratings

Common unit


Superb well armoured professional heavy cavalry armed with a lance.
Units List

30

20

60

40

30

24

24

24

24

24

16

16

24

24

24

24

48

48

48

48

48

48

48

60

48

48

48

48

60

60

60

60

48

48

48

16

16

16

16

16

16

16

16

Cannot recruit units

24

60

48

16
Faction strength
Excellent naval units, light infantry and cavalry.
Faction weakness
Lacks heavy infantry and spears in early period.
Special unit
Coat of Arms