Faction Description

The Aztec Empire, A.D. 1521 Summer

The Aztec Empire of the Triple Alliance dominates the heart of the New World. Formed by the three great cities of Tlacopan, Texcoco, and the Aztec capital of Tenochtitlan, it is ruled by Moctezuma II, the 'Hueyi Tlatoani', or great speaker. Made up of three separate tribes, the Aztec alliance acquires its name from the dominant Mexica tribe, known amongst the others as the 'Aztecs'. The Alliance rules over many nearby city-states, enforcing tribute on pain of invasion and sacrifice.The Aztecs primarily worship Huitzilopochtli, the god of war and the sun, who struggles constantly to hold back the darkness and requires nourishment in the form of human sacrifice. The Aztecs believe the world may end at the end of a 52 year cycle, which is quickly approaching, unless they can keep Huitzilopochtli strong. It is this need for sacrifices that drives the Aztecs to conquest. New territories mean new populations that can be used as slaves and, more importantly, sacrifices to stave off the end of the world.There have been many troubling portents for the Aztecs lately. A comet has been seen streaking through the heavens, the temple of Huitzilopochtli was destroyed by a great fire, and another temple was destroyed by a bolt of lightening! For the Aztecs, these are sure signs of defeat and conquest. If these omens were not worrying enough, a mysterious ghost woman has been seen wailing through the night and strange visions of men riding deer have been seen. The Aztecs are surrounded by enemies - the Tlaxcalas to the east, Tarascans to the west and Chichimecs to the north. However, it seems unlikely that any one of them could overcome the mighty Aztec empire, and many Aztecs think the omens are but a test of their faith.The Aztecs utilise many brave and fearsome warriors, including the Jaguar and Eagle orders. Their lack of cavalry is compensated by the overwhelming number of fierce warriors they can field.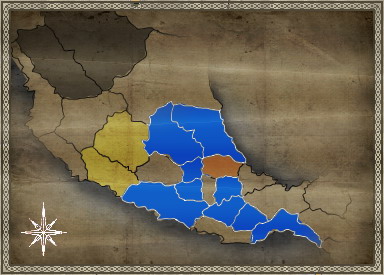 Popular units
No.
Card
Name
Class
Cost
Unkeep
1

48

Cuahchiqueh
infantry heavy
440
112
11 ratings

Legendary unit


Extravagantly dressed elite shock troops. Their well known prowess causes fear to their enemies.
2

32

Coyote Priests
infantry light
470
245
7 ratings

Legendary unit


Members of the priesthood who engage in combat. Wearing a coyote suit and armed with a maquahuitl club.
3

60

Jaguar Warriors
infantry light
520
139
19 ratings

Great unit


A fearsome warrior, who through great skill and courage wears the jaguar uniform. Armoured with ichcahuipilli armour, chimalli shield, and wielding maquahuitl
4

48

Eagle Warriors
infantry light
370
112
10 ratings

Great unit


Fearsome warriors garbed in an outfit to resemble an eagle. Armoured with ichcahuipilli, and wielding maquahuitl clubs two-handed.
5

24

Bodyguard
infantry heavy
500
85
6 ratings

Great unit


The retinue of an Aztec general. Armed with a chimalli shield, a maquahuitl club and wearing ichcahuipilli padded armour.
Units List

60

60

60

60

60

60

48

48

32

48

Cannot recruit units

24
Faction strength
Brave, zealous and vast in numbers.
Faction weakness
Completely lacking in armour and weapon technology.
Special unit
Jaguar Warriors
Castle Buildings List