Faction Description

Crown of Aragon, A.D. 1080 Summer

The union of the territories of the County of Barcelona and the Kingdom of Aragon was brought by the marriage of Ramon Berenguer IV, Count of Barcelona and Petronila of Aragon. The resulting new kingdom came to be known as the Crown of Aragon. The son of Ramon Berenguer IV and Petronila, Alfonso II, inherit both the titles of King of Aragon and Count of Barcelona, in a style that would be maintained by all its successors to the crown. Thus, this union was made while respecting the existing institutions and parliaments of both territories.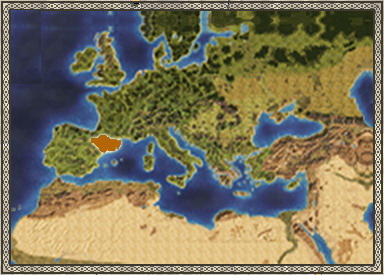 Popular units
No.
Card
Name
Class
Cost
Unkeep
1

48

Almughavars
infantry missile
500
250
7 ratings

Legendary unit


Elite light infantry skirmishers armed with javelins and swords, and sometimes armour.
2

48

Dismounted Armats
infantry heavy
720
300
3 ratings

Legendary unit


Benefiting from improvements in arms and armour these elite warriors are still formidable, even when they choose to fight on foot.
3

16

Basilisk
siege missile
1600
400
2 ratings

Legendary unit


Very powerful cannon with great range, damage and accuracy. Punishing against defences and units. Can fire solid or explosive shots.
4

48

Dismounted Knights of Montesa
infantry heavy
650
250
2 ratings

Legendary unit


Based in Spain, the Knights of Montesa are loyal to the Crown of Aragon.
5

60

Grande Carrack
ship light
1940
350
2 ratings

Legendary unit


A supremely powerful warship. Sporting heavy cannon broadsides and a thick hull. Can travel across the ocean.
Units List

30

20

60

40

30

24

24

24

8

8

24

24

24

48

48

48

48

48

48

48

80

48

48

48

48

60

60

60

48

16

16

16

16

16

16

16

16

48

48

48

24

24

24

48

Cannot recruit units

60
Faction strength
Excellent javelinmen and a good mix of infantry and cavalry.
Faction weakness
Lacks heavy infantry and spears in early period.
Special unit
Almughavars