Faction Description

Egypt, A.D. 1080 Summer

At a time where religious intolerance is common throughout the known world, Egypt stands out as an enlightened melting pot of religions and ideologies. Descendents of Mohammed's daughter Fatima, the Fatimid rulers of Egypt are Shiite Muslims, but Sunnis, Jews and Christians still hold offices and government positions. Unlike the age of the Pharaoh, bloodline is now considered secondary to ability and talent in Egypt, making it a very progressive and balanced nation. After being assimilated into several empires over the past couple of millennia, the people of the Nile have proven to be culturally flexible and great survivors.For all its merits, the Fatimid dynasty was once a little mightier than it is now, with its borders receding after a reign of madness and mismanagement by Caliph Al-Hakim. Fortunately for the Egyptians, none of their neighbours are bearing down upon their lands - in fact, expanding in any direction shouldn't prove a problem. The Moors lie much too far to the west to be considered an immediate threat, and the Holy lands beyond Gaza are presently ruled by petty Sheikhs and Emirs that are backed by none of the major empires.Though the problems facing the Egyptians close to home aren't anything a decisive ruler can't deal with, any Egyptian forays into the Holy lands will no doubt be subject to Catholic invasion from across the Mediterranean. Regular military pilgrimages by European Christians to Jerusalem seem an inevitability, as do counter-attacks from other Muslim powers such as the Turks. Expand and consolidate quickly and the world could be your oyster.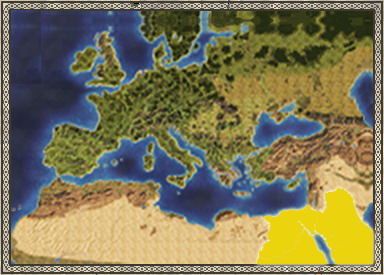 Popular units
No.
Card
Name
Class
Cost
Unkeep
1

24

Royal Mamluks
cavalry heavy
1490
400
4 ratings

Legendary unit


These men are the Sultan's guard and are chosen from the best Mamluk cavalry, making them the elite of the elite.
2

80

Desert Raiders
infantry light
280
130
3 ratings

Legendary unit


Fearless and hardened light infantry equiped with only a scimitar, effective against other infantry and archers.
3

24

Mamluks
cavalry heavy
890
320
3 ratings

Legendary unit


Bought as slaves, and trained from boyhood and well equipped, these soldiers make formidable heavy cavalry.
4

24

Khassaki
cavalry heavy
1420
430
2 ratings

Legendary unit


These elite troops are the Sultan's own bodyguard, given the best horses and equipped with the best armour and weapons available.REQUIRES CAIRO
5

48

Tabardariyya
infantry heavy
620
280
2 ratings

Legendary unit


Normally found guarding the Sultan's palace, these axe-wielding warriors make excellent fighters.
Units List

50

20

40

30

24

24

24

24

24

8

8

48

16

48

48

48

48

80

48

60

60

48

60

48

24

48

16

16

16

16

16

16

80

24

24

48

48

16

Cannot recruit units

24

24

24

48

48

48

24

48

24
Faction strength
Relies on powerful cavalry, particularly the Mamluks.
Faction weakness
Lacks heavy infantry, particularly in the late period.
Special unit
Khassaki