Faction Description
Kingdom of Jerusalem, A.D. 1080 Summer

The Kingdom of Jerusalem, as a Crusader State, was founded at the end of the First Crusade in 1099. Incorporating the County of Tripoli and considered by many to be the jewel of the Crusader Kingdoms, Jerusalem is made up of Franks, native Christians, Jews, Orthodox Christians and Muslims. As a result, a certain degree of religious tolerance exists within Jerusalem, which is now ruled over by the Crusading Franks. The Kingdom of Jerusalem is ruled by King Baldwin IV, also known as 'The Leper King', although partially crippled by Leprosy since childhood, Baldwin has proven to be a dynamic ruler and an astute general. However, Baldwin has a difficult time ahead as both the Turks, under Nur ad-Din, and the newly revitalised Egypt, under Salah al-Din, are intent on driving the European Infidels out of the Holy Lands. Maintaining and building alliances with Jerusalem's northern Christian neighbours, the Principality of Antioch and the Byzantine Empire could prove to be a wise strategy in the face of the growing Muslim threat. The Kingdom of Jerusalem relies heavily on the might of its various knights including the Knights of Jerusalem and the mighty Constable of Jerusalem and his guards. Bolstering Jerusalem's forces are the powerful Knights Templar, who provide Jerusalem with a range of troops from its Order such as crossbowmen, sergeants, as well as the formidable Templar Knights, including the Marshall of the Templars himself.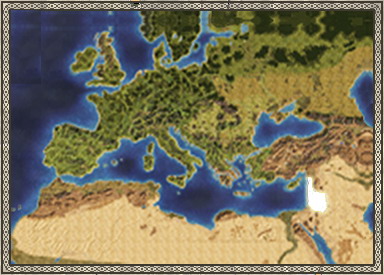 Popular units
No.
Card
Name
Class
Cost
Unkeep
1

8

General's Bodyguard
cavalry heavy
1000
250
3 ratings

Legendary unit


Well armed and equipped these elite troops have the task of guarding and fighting alongside the army's general.
2

48

Canons of the Holy Sepulcher
infantry heavy
810
320
20 ratings

Great unit


Elite heavy infantry originally created to guard the Church of the Holy Sepulchre. These units a well armoured and equipped with a sword.
3

32

Constable of Jerusalem
cavalry heavy
1680
500
11 ratings

Great unit


Elite Heavy cavalry protected by heavy armour, equipped with lance and a mace for when things get up close and personal.UNIQUE UNIT
4

48

Dismounted Knights Templar
infantry heavy
690
230
8 ratings

Great unit


Elite and some say reckless knights formed to protect Christian pilgrims in the Holy Lands.
5

48

Edessan Guard
infantry heavy
700
280
7 ratings

Great unit


Good quality heavy infantry protected by armour and equipped with foe rending two-handed axes.
Units List

50

20

30

30

8

24

24

60

48

48

16

16

16

16

16

24

48

24

24

32

48

48

60

60

48

24

48

48

16

Cannot recruit units

24

24

60

24

48

48

48
Faction strength
Fields strong heavy cavalry and the strength of the Knights Templar.
Faction weakness
Fields a poor variety of light cavalry and skirmishers. Lacks heavy plate armor.
Special unit
Templar Confrere Knights