Faction Description 國家派系

Basileia Rhōmaiōn, A.D. 1180 Summer

Byzantium is the shadow that remains of the old Roman Empire. It is a mere shadow because despite retaining the civilised ways of the Roman legacy, the Byzantines have done little to further it. In fact, it is their reverence of the old ways that has brought the empire to a point of stagnation, in a world that has gradually kept moving on. The differences between the thinking in Byzantium and the west were most profoundly highlighted with the Great Schism, the division of Christendom.Despite boasting the world's trade capital and home of Orthodox Christianity in Constantinople, the Byzantine Empire is well past its zenith and is now in steady decline. The outer regions of the empire have been slipping from the Emperor's grasp for decades now. To the west, the Normans have taken southern Italy, and in the east the Turks have moved into Asia Minor after their decisive and terrible victory at Manzikert. The latter of these two losses was the worst defeat the Empire had suffered in its entire history. To make matters worse, general corruption, chaos and dissent has lead to some of the other provinces closer to home to rebel. Arguably, the greatest threat to Byzantium lies in its independence from Rome. There is significant risk that the lords of the west will consider the lands of Orthodox Christianity to be fair game unless the Pope decrees otherwise. It is a true irony that Constantinople may now have to appease Rome after becoming the new capital of the Roman Empire centuries ago.If the Byzantine Empire is to once again become the dominant power of the east, then it will first need to reclaim its heartlands wholly before encroaching upon the borders of another power. The Byzantine legacy is long and predominantly proud, but unless the Emperor can turn things around in a hurry, it is a legacy that will soon end.

拜占庭帝國, 公元 1180 夏

拜占庭帝國,生活在舊日羅馬帝國的陰影之中,除了保留羅馬輝煌傳統之外,自身少有寸進。事實上,正是他們自身的頑固守舊,導致在整個世界迅猛發展之時,老大帝國依然停滯不前。拜占庭和西方世界的區別,從基督教的分裂即可見端倪。儘管君士坦丁堡自詡為世界貿易心髒和東正教中心,拜占庭帝國已然告別其鼎盛時代,國力正全面衰退。數世紀以來,其邊境地區正逐步脫離帝國控制。帝國西面,諾曼人已經掌控南部意大利,而東部土耳其人正挾曼西克特大捷之威,全面進入小亞細亞,無疑為帝國歷史上曾遭受的最大挫折。更有甚之,將領叛逃、地區暴亂和政局動盪導致近畿行省亦蠢蠢欲動,圖謀叛亂。歷史表明,拜占庭帝國的最大錯誤,就是與羅馬公然分裂。然而,除非教皇改變主意,否則羅馬人始終無法接受東正教。以至於在成為羅馬帝國首都數世紀後,君士坦丁堡仍須處心積慮迎合羅馬歡心,實為莫大諷刺。若拜占庭欲在東方再度復興,必先平息近畿心腹之患,而後方可對外用兵。拜占庭,延續著輝煌悠久的傳奇,但帝國統治者如若不能痛定思痛,急起直追,這個曾經如此榮耀的帝國必將成為歷史的沉重歎息...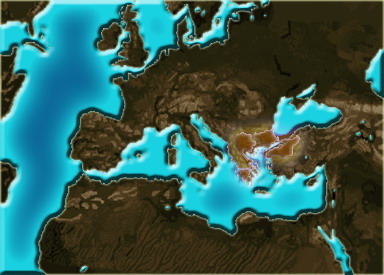 Popular units 受歡迎兵種
No.
Card
兵種
Name
名稱
Class
兵種
Cost
招募費
Upkeep
維持費
1

72

Byzantine Heavy Spearmen
拜占庭重裝矛兵
infantry spearmen
450
155
6 ratings 個評分

Legendary unit 極度推薦


The byzantine heavy spearmen are armed with long spears and swords, being very versatile troops, effective against both infantry and mounted units.
拜占庭重裝矛兵裝備長矛戰劍,戰術靈活多變,能有效對抗敵軍步兵和騎兵。
2

16

Greek Firethrower
希臘火噴射兵
infantry missile
800
150
4 ratings 個評分

Legendary unit 極度推薦


A devastating and terrifying weapon shooting spurts of liquid fire. Consisting of a small hand pump connected to a container.
希臘火部隊能噴射威力恐怖的毀滅性火焰,只有君士坦丁堡方可組建。
3

60

Varangian Guard
瓦蘭吉衛隊
infantry heavy
670
225
4 ratings 個評分

Legendary unit 極度推薦


The Varangian guard are superb two-handed axemen, protected by heavy armour.
瓦蘭吉衛隊身穿重甲,揮舞雙手戰斧,乃拜占庭禁軍精銳。
4

32

Kataphractoi
鐵甲聖騎兵
cavalry heavy
660
185
3 ratings 個評分

Legendary unit 極度推薦


Very heavily armoured and equipped with a lance and mace, although somewhat outdated they are still formidable troops.
鐵甲聖騎兵手持騎槍和狼牙棒,儘管戰術陳舊,但仍頗為恐怖。
5

72

Skutatoi Pikemen
斯庫塔圖重裝長槍兵
infantry spearmen
430
185
2 ratings 個評分

Legendary unit 極度推薦


Fighting in a phalanx formation, these spearmen are more than a match for the heavily armoured.
斯庫塔圖重裝長槍兵可列方陣拒敵,對抗重裝部隊表現極為出色。
Units List 兵種單位

50

30

30

40

32

32

32

16

32

32

32

32

32

32

32

32

32

56

56

56

56

72

60

60

72

72

72

72

60

60

60

60

60

32

56

60

16

16

16

16

56

56

72

60

32

72

16

60

56

16

Cannot recruit units 無法招募兵種
Faction strength
國家優勢
Good heavy cavalry and missile cavalry, capable archers.
精銳重裝騎兵、弓騎兵和弓箭兵
Faction weakness
國家劣勢
Lacks late period gunpowder.
後期缺乏火藥部隊
Special unit
特色兵種
Varangian Guard
瓦蘭吉衛隊
Castle Buildings List 城堡建築