Faction Description 國家派系

Magyar Királyság, A.D. 1180 Summer

Exactly a full millennium since the birth of the Messiah, the Christian Kingdom of Hungary was born when Pope Silvester II sent the "Holy Crown" to signify that the pious noble István I, had become the founding Christian monarch of the realm. Dying without leaving an heir, pagans soon once again assumed control of Hungary, but it would seem this is a land Christendom was destined to call its own. When László recently succeeded his brother Geza I as King of Hungary, he nationalised Christianity so utterly, and with such fervour, that he is already being deemed by many to be a living Saint.Though it is clear that the Pope's approval of László's unusual piety has no doubt re-established Hungary as a respectable Catholic kingdom, it would appear that the Hungarians will soon be taking on another Christian power should they wish to expand at all. The Holy Roman Empire and Poland essentially cut off all of Hungary s options to the west or north respectively, leaving Moldavia and Wallachia as the paths of least resistance out of the Carpathian mountains.Of course, to follow such a path is to spoil the plans of the Byzantine Empire to regain its western provinces. Avoiding interfering with Byzantine interests leaves only one other option, sweeping north around the Crimea into the Ukraine. This however, simply replaces one Orthodox adversary with another, and will require immediate action, as the armies of Novgorod are already poised to sweep southward to unite the Russian principalities.Regardless what László s first move is, nothing will change the fact that Hungary has become Catholicism's physical front line against all other faiths - Something that will doubtlessly bring great glory, yet even greater bloodshed.

馬扎爾王國, 公元 1180 夏

彌賽亞降臨千年之際,匈牙利作為基督教王國誕生,教皇西爾維斯特二世加冕表彰匈牙利開國君主伊斯特凡一世傑出聖跡。伊斯特凡一世未留任何後嗣,即撒手人寰。國王去世後,異端捲土重來,但匈牙利無疑已是基督徒的土地。拉茲洛擊敗其兄弟蓋扎一世國王后,全力皈依基督,其狂熱令諸多人士認為此人實乃在世聖徒。教皇對拉茲洛異乎尋常的虔誠表示讚許,無疑這有助於將匈牙利重建為深受尊敬的基督國家。但若要開疆闢土,與另一基督國家刀兵相見卻勢在必行。神聖羅馬帝國和波蘭王國分別重兵堵截匈牙利向西部和北方的擴張通道,唯余喀爾巴阡山外摩爾達維亞和瓦拉幾亞地區防守較為薄弱。很顯然,選擇上述路線出兵,無疑將干擾拜占庭帝國收復西部行省的戰略部署。欲避免與拜占庭正面沖突,只有向北橫掃克里米亞直至烏克蘭,但這也僅是將一個東正教對手換成另外一個,並且必定會招致激烈反擊,因為諾夫哥羅德早已三軍整備,意欲統一羅斯諸公國。無論拉茲洛作何抉擇,事實不容改變,匈牙利已成為基督世界面對其他信仰的前沿陣地。無疑,這將帶來無比榮耀,但也許,是更淒厲的血光...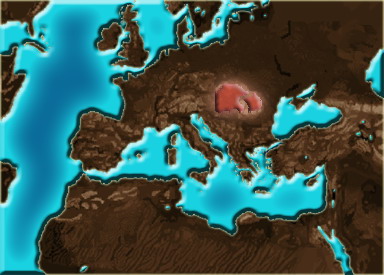 Popular units 受歡迎兵種
No.
Card
兵種
Name
名稱
Class
兵種
Cost
招募費
Upkeep
維持費
1

36

Végvári Vitézek
戰場刺客
infantry light
740
250
1 ratings 個評分

Legendary unit 極度推薦


originating from the Turkish Border wars, these seasoned sabre-wielding swordsmen are masters of stealth and death.
戰場刺客溯源於神秘騎士團體,精擅潛伏和暗殺。
2

32

Knights Hospitaller
醫院騎士
cavalry heavy
740
185
1 ratings 個評分

Legendary unit 極度推薦


Well trained and disciplined these knights are amongst the deadliest heavy cavalry in all Christendom.
醫院騎士訓練有素,紀律嚴明,躋身基督世界中最為精銳的騎兵部隊。
3

60

Canons Regular of the Holy Sepulchre
infantry heavy
810
225
1 ratings 個評分

Great unit 非常推薦


Well trained and disciplined these dismounted knights are amongst the deadliest heavy infantry in all Christendom.
4

32

Royal Banderium
男爵親衛騎兵
cavalry heavy
740
240
1 ratings 個評分

Great unit 非常推薦


Armed with lances and encased in plate armour these loyal warriors act as retinues and bodyguards for royalty.
男爵親衛騎兵是忠誠的貴族衛隊,裝備板甲和騎槍。
5

32

Magyar Cavalry
馬扎爾弓騎兵
cavalry missile
370
130
1 ratings 個評分

Great unit 非常推薦


These natural horsemen are armed with a composite bow and wear light armour.
馬扎爾騎兵是天生的弓騎兵,裝備復合弓和輕型鏈甲。
Units List 兵種單位

50

20

40

30

32

32

32

16

16

32

32

32

32

32

32

32

32

32

32

32

56

56

56

56

56

72

72

60

60

60

60

72

72

72

60

36

60

60

60

32

56

60

16

16

16

16

16

16

16

56

56

72

60

32

60

60

60

60

16

Cannot recruit units 無法招募兵種

32

60

60
Faction strength
國家優勢
Boasts a strong mix of heavy knights and skilled horse archers.
重裝騎兵和精銳弓騎兵
Faction weakness
國家劣勢
Lacks good offensive infantry.
缺乏精銳近戰步兵
Special unit
特色兵種
Battlefield Assassins
戰場刺客
Castle Buildings List 城堡建築